From beginnings as a blacksmith shop in 1956, Groupe ADF Inc. is now a North American leader in complex steel manufacturing for the non-residential industry.
1956
1956
Giacomo "Jacques" Paschini, a native of the Friuli region in Italy, founded his family business "Au Dragon Forgé" in Sainte-Rose, Laval.
Until the early 1980s, the business specialized in producing wrought iron works, mainly for Quebec's residential construction industry.
1980
1980
The founder handed control of the company to the next generation of Paschinis.
The new directors, Jean, Pierre and Marise, shifted ADF's activities toward the production of metal structures for the non-residential construction industry in Quebec and Ontario, and developed the company's expertise in increasingly complex steel structures and architectural metal.
1992
1992
In the 1990s, the company began to expand in the North American and international markets. It first targeted the southeastern United States and firmly established its presence in Florida in 1992 to better serve its new markets. While the majority of its projects are in Canada and the United States, ADF has also executed many projects internationally, such as in South America, Africa and the Caribbean.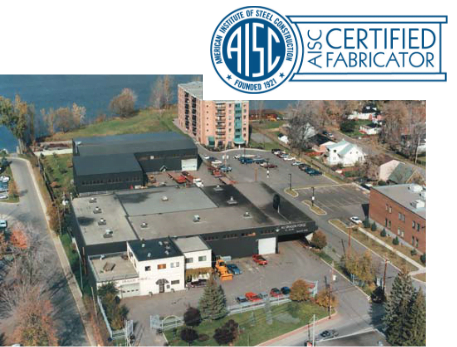 1994
1994
During 1994, ADF obtained its American Institute of Steel Construction (AISC) certification.
1997
1997
To meet the growing demand for its products and services, ADF moved its operations to a brand new, larger and more modern plant in Terrebonne, Quebec.
Since its inauguration, the plant has tripled in size, now measuring 58,530 square meters (630,000 square feet).
The introduction of automated equipment and production lines and its skilled workforce enabled the Terrebonne plant to increase its annual production capacity to around 100,000 tons of steel.
1999
1999
Groupe ADF Inc. goes public to drive growth. Its shares are traded on the Toronto Stock Exchange (TSX) under the ticker symbol DRX.
2014
2014
In 2014, the company opened a new fabrication plant, measuring 9,290 square feet (100,000 square feet), constructed on a 100-acre (4.4 million-square-foot) industrial lot in Great Falls, Montana in the United States. The new ADF complex features an expansive shop dedicated to pre-assembly and the production of steel structures designed for major production works, such as modular construction, among other project types. The following year, in 2015, the Corporation built a 48,000-square-foot dual-purpose industrial building, adjacent to the fabrication plant.
2016
2016
In 2016, a new paint shop opens in Terrebonne. With a 150-ton lifting capacity and state-of-the-art blast room, this 42,000-square-foot factory has AISC SPE QP1 certification and offers turnkey service.
Present
Present
ADF offers more than 65 years of expertise in design, engineering, design-assist, fabrication, coating and constructions services for large-scale projects involving highly complex steel structures.